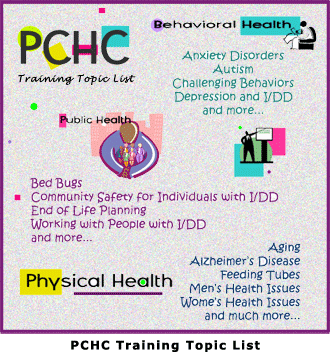 PCHC is committed to providing community health training to all agencies and county staff in the Southeast Region of Pennsylvania. We offer trainings in:
You can schedule any of our trainings shown in the Training Topic List by:
We require that all trainings we facilitate, both agency and county, have a minimum of 10 participants*. This is necessary due to our limited resources, tight schedules and the time and effort spent preparing curricula content.
If we arrive at a scheduled training and there are less than 10 participants we will not be able to conduct the training, but will offer to re-schedule when more participants are available to attend.
ON-LINE TRAININGS for INDIVIDUALS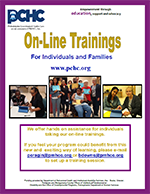 PCHC is now offering
on-line trainings for individuals
on our website using
iPads
. If you have people at your program that could benefit from this
new and exciting way of learning
, please
read the flyer
for more information about the types of trainings available.
To
set up a training
, click the button below and complete the Contact Us Form:
Training Topic List On-line Trainings for Individuals
* These guidelines do not apply to trainings that we provide for individuals/self-advocates.
DISCLAIMER: Information and education provided by PCHC is intended as general information only and is not all inclusive or intended to replace physical, dental or behavioral health advice. If you believe that you, or someone you support, have physical, dental or behavioral health issues, please seek professional advice.